Linux Foundation Coupon for 2020
Hi Techies, I wanted to let you know about a pretty sweet deal with Linux Foundation Coupon that is running now.
Linux Foundation certifications are considered industry-standard open-source certifications. It offers certification and training programs on technologies like Linux, Kubernetes, OpenStack, kernel development, etc.
Linux Foundation Coupons
Here are the latest Coupons From Linux Foundation
15% Sitewide Coupon: Use coupon code SCOFFER15 to get 15% on all training and certification programs.
How to Get 32% Discount On Linux Foundation
The best way to get a 32% discount on the Linux foundation is by choosing the certification bundles. When you bundle a preparation course with the relevant certification, you will get $100 off on the bundle and extra 15% discount on the total bill amount using the coupon SCOFFER15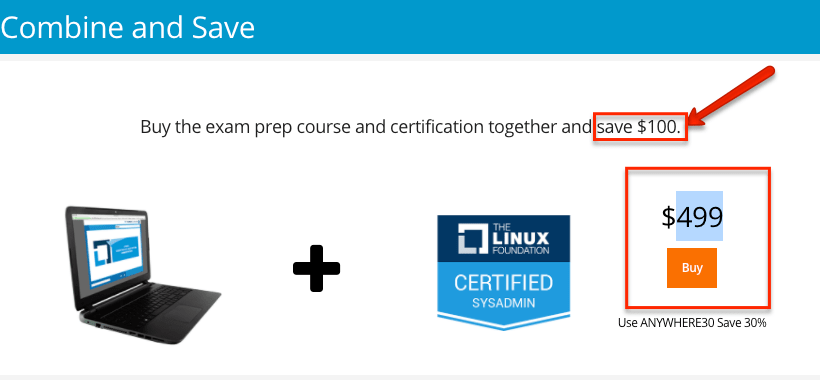 Here is how you apply coupon to get the extra 15% discount.


For the first time ever, they've knocked down the price on their Certification + Course bundle plan by $189.
It comes to 60% off on its key certifications and preparation bundle.
This plan includes the course preparation guide, plus their certification registration, a free T-Shirt, and resources to help reinforce what you're learning.
This plan adds a lot of value—and with this promotion—at a great price too.
They've also knocked $150 off their regular subscription price.
Every serious Sysadmin/ DevOps Engineer must use this great offer on certifications.

=> Click here to save up to $150 on Linux Foundation <==
I don't think you're going to have another opportunity like this for a LONG time.
All we can say is that you don't have a lot of time to make up your mind.
And since We sincerely believe that the Linux Foundation is a resource that every single DevOps guy should have…
And since you and us know that nothing ever happens without a deadline…
And since we want you to take action on this because it's in your best interests to do so.
Key certification Programs for DevOps Engineers
Following are the key certifications which interest most of the DevOps Engineers.
Linux foundation certified system administrator
Certified Kubernetes Administrator (CKA)
Certified Kubernetes Application Developer (CKAD)
Certified OpenStack Administrator (COA)
These certifications are challenging and it shows your expertise in those toolsets.
Moreover, every certification has an associated preparation course from beginners to advanced level. This will help you in attaining the certification. And with $179 deal, you will get both certification and the training course.
Note: Also check for updated coupons here => Linux Foundation Coupons