Linux Foundation Coupon for 2021
Hi Techies, I wanted to let you know about a pretty sweet deal with the Linux Foundation Coupon that is running now. The 2021 cyber monday deal is the best deal of the year.
Linux Foundation certifications are considered industry-standard open-source certifications. It offers certification and training programs on technologies like Linux, Kubernetes, GitOps, OpenStack, kernel development, DevOps, SRE, Jenkins, etc.
Linux Foundation Coupons
Here are the latest site-wide Coupons From The Linux Foundation
[65% OFF] Linux Foundation Cyber Monday 2021
The biggest Linux foundation cyber Monday deal for 2021 is live. You will get up to a 65% discount on all the Linux Foundation training and certification programs.
Note: Cyber Monday Deal ends on Dec 6th
Here are the three key Cyber Monday deals you should look at.
Deal Type
Deal Information
Best Deal
The Power Bundles
[65% Discount] In this bundle, you will get training and two exam registrations for a 65% Discount. That is $650 in Savings
1. CKA + CKAD bundle
2. CKA+ CKS bundle
3. LFCA+LFCS bundle
Use code CYBER21PB at checkout to avail this bundle.
Course & Certification Bundle
[50% Discount] When you opt for a course and certification, you can get a flat 50% discount.
Kubernetes courses + Certification Bundles (CKA, CKAD, and CKS, KCNA, LFCA etc)
Training + Certification Offer
[65% Discount] If you pick any training or certification separately, you will get a 50% discount.
Use code CYBER21CC at checkout.
Bootcamps
65% discount on all the three bootcamps.
Use code CYBER21BC at checkout.
[15% OFF ] Discount on All Certification & Training
Save 15% on all the Linux Foundation training and certification programs. This is a limited-time offer for this month. This is offer is applicable for CKA, CKAD, CKS, LFCA, and all the other certification, training, and BootCamp programs.
Coupon: use code DCUBEOFFER at checkout
Important Note: Linux Foundation certification costs have increased for certifications like CKA, CKAD, and CKS from July 1st, 2021.
[Save $57] Exclusive Offer for Scriptcrunch Users
This is an exclusive offer from the Linux Foundation for scriptcrunch.com users. You will get a $45 discount sitewide using this coupon.
Coupon: use code DCUBEOFFER at checkout
[$863 Savings] DevOps Bootcamp Discount
With the Linux Foundation DevOps BootCamp, you can save $800 using the course bundles. Also, you can get an additional $63 discount using our exclusive promo code.
Coupon: use code SCOFFER15 at Bootcamp checkout
[$600 OFF] Cloud Engineer Bootcamp Discount [Expired]
Become a certified cloud engineer, one of the 15 highest paying IT jobs, in as little as six months using the cloud engineer Bootcamp programs. As part of an exclusive sale, you can get a 50% discount or $600 savings on the Bootcamp programs.
Coupon: use code BOOTCAMP2021 at checkout
[80% OFF] Cloud Bootcamp – New Year 2021 Offer [Expired]
As part of the new year 2021 promotion, The Linux Foundation offers an 80% discount on the cloud engineer Bootcamp programs. This offer is valid till January 19th. You could save up to $1900 with this offer
There is a special offer running on the cloud engineer Bootcamp bundle. It includes CKAD certification with training programs. You could save 50% on this program.
Save Big on Linux Foundation Bootcamp Programs
Linux Foundation has Bootcamp programs that let you save a huge amount on its training and certifications.
Here are the top Bootcamp programs offered by The Linux Foundation
Advanced Cloud Engineer Bootcamp – Save $1,000 with Linux (LFCS) & CKA certification bundles.
Cloud Engineer Bootcamp – Save $1000 with bundles
Key Certification Programs for DevOps Engineers
Following are the key certifications that interest most DevOps Engineers. If purchase the course as a bundle, you could save $100.
Linux foundation certified system administrator (LFCS)
Certified Kubernetes Application Developer (CKAD)
Certified Kubernetes Security Specialist (CKS)
Certified OpenStack Administrator (COA)
Here are the voucher codes for these exams. It has CKA, CKAD & CKS exam discounts for 2021
| | |
| --- | --- |
| Certifications | Coupon Code |
| CKA Voucher Code | DCUBEOFFER |
| CKAD Voucher Code | DCUBEOFFER |
| CKS Voucher Code | DCUBEOFFER |
| LFCS Voucher Code | LINUX30 |
| LFCA Voucher Code | LINUX30 |
| LFCE Voucher Code | LINUX30 |
These certifications are challenging and it shows your expertise in those toolsets.
Moreover, every certification has an associated preparation course from beginners to advanced levels. This will help you in attaining the certification.
Linux Foundation DevOps and SRE Courses
The following are the key training courses related to DevOps and SRE. You can get started with the free courses offered by the Linux foundation. The paid courses are priced at $299. You can save 15% with our coupon code.
Introduction to Jenkins (LFS167) [Free]
Introduction to DevOps and Site Reliability Engineering (LFS162) [Free]
Jenkins Essentials (LFS267) [Paid]
DevOps and SRE Fundamentals: Implementing Continuous Delivery [Paid]
CI/CD with Jenkins X (LFS268) [Paid]
How to Get 32% Discount On Linux Foundation
The best way to get a 32% discount on the Linux foundation is by choosing the certification bundles. When you bundle a preparation course with the relevant certification, you will get $100 off on the bundle and an extra 15% discount on the total bill amount using the coupon SCOFFER15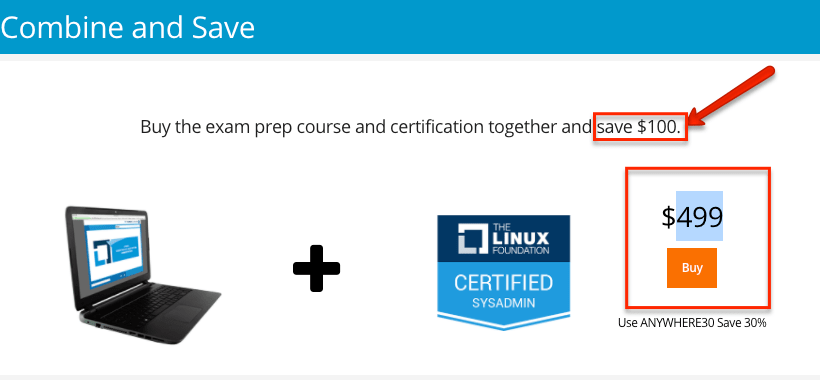 Here is how you apply coupon to get the extra 15% discount.


Linux Foundation Black Friday Sale 2021
Note: These offers are valid only during Black Friday, Cyber Monday, and during other special day promotions.
With the Linux Foundation black Friday deal, you can save up to 65% on training, certification, and BootCamp programs. We will update the offer list once the Black Friday deal is live.
Here are the top Linux Foundation Black Friday Deals
| | |
| --- | --- |
| Category | Black Friday Offer Details |
| Certifications | $100 + 15% With Coupon SCOFFER15 |
| Courses | 15% Flat Discount With Coupon SCOFFER15 |
| Bootcamps | Save $1300 on Bootcamps |
For the first time ever, they've knocked down the price on their Certification + Course bundle plan by $189 for black Friday.
It comes to 60% off on its key certifications and preparation bundle.
This plan includes the course preparation guide, plus their certification registration, a free T-Shirt, and resources to help reinforce what you're learning.
This plan adds a lot of value—and with this promotion—at a great price too.
They've also knocked $150 off their regular subscription price.
Every serious Sysadmin/ DevOps Engineer must use this great offer on certifications.
I don't think you're going to have another opportunity like this for a LONG time.
All we can say is that you don't have a lot of time to make up your mind.
And since We sincerely believe that the Linux Foundation is a resource that every single DevOps guy should have…
And since you and us know that nothing ever happens without a deadline…
And since we want you to take action on this because it's in your best interests to do so.
Note: Also check for updated coupons here => Linux Foundation Coupons
Top Linux Foundation Courses
Following are the top courses from the Linux Foundation.
We will keep updating the latest top resources from the Linux foundation.
Linux Foundation Discout FAQ's
How long the exam voucher codes are valid?
If you use the voucher code and purchase a certification exam like CKA, CKAD, or CKS, it will be valid for one year.
What is the maximum discount you can get from the Linux foundation?
During Black Friday and holiday promotions, you could get up to a 65% discount. For special days, you can get up to 21%. You can always redeem 15% using coupon SCOFFER15